VA, VISN and CLC Partner Ready
At CareView, we are fully equipped and partner ready to serve Government Hospitals, including Veterans Affairs (VA), Veterans Integrated Service Network (VISN), and Community Living Centers (CLC). Our unwavering commitment to excellence, combined with key certifications and partnerships, enables us to deliver top-notch virtual care solutions tailored to the unique needs of these esteemed veteran care facilities.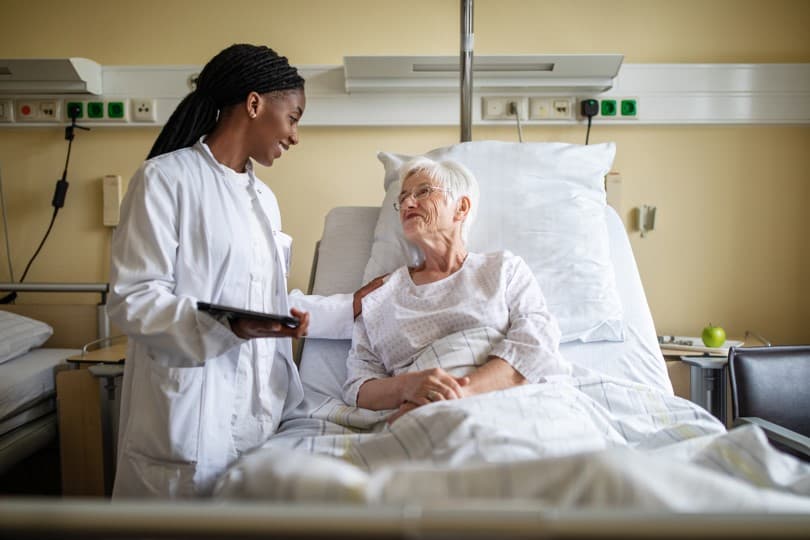 For Government Collaboration
To ensure seamless collaboration with the U.S. Dept. of VA, CareView has successfully completed processes for the U.S. Dept. of VA Enterprise Risk Assessment (ERA). We have also secured a National BAA (Business Associate Agreement) with the U.S. Dept. of VA, solidifying our commitment to maintaining the highest standards in data protection and compliance.
Empowering Veterans' Care
Impactful Collaboration with SDVOSBs
As part of our commitment to innovation and inclusivity, we are honored to collaborate with Service-Disabled Veteran-Owned Small Businesses (SDVOSBs) to provide cutting-edge technology for government hospitals. By partnering with SDVOSBs, we not only enhance patient care through our virtual care solutions but also contribute to the growth and success of veteran-owned businesses.
Secure Virtual Care Solutions
Data security is paramount in the healthcare industry, and CareView takes it seriously. Our virtual care solutions are FIPS 140-2 Validated, ensuring the highest level of encryption for patient data. We hold FIPS 140-2 Certificate #3998 CareView Cryptographic Module, providing peace of mind to Government Hospitals as they entrust us with sensitive information.
GSA Sole-Source Contractor
Your Direct Path to Cutting-Edge Solutions
CareView takes immense pride in being a GSA Sole-Source Contractor (#GS07F020AA), offering government hospitals an efficient and direct route to accessing our cutting-edge solutions. Our status as a GSA Sole-Source Contractor streamlines the procurement process, providing you with a hassle-free experience as you embrace the latest advancements in virtual care.
Improved Patient Safety Outcomes
The impact of CareView's installation was remarkable, resulting in a significant reduction in Veteran falls at the facility within just three months. The graph below illustrates the data for Q4 of 2020, showing an average of 5.0 patient falls per 1,000 patient days for VAMC CLC, compared to an average of 4.2 falls per 1,000 patient days for their VISN and 5.3 falls average for the broader VA network. Since the CareView solution's implementation in late-March 2021, the VA witnessed an immediate decrease in patient falls, with the first full quarter of post-installation data revealing an impressive reduction of well over 80% to only 0.3 patient falls per 1,000 patient days.
Community Living Center (CLC) Unit Fall Rate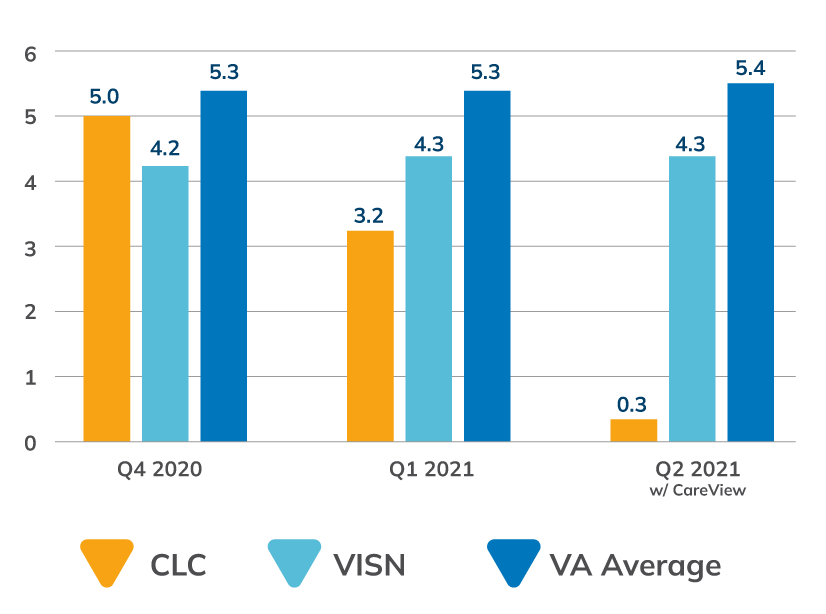 Experience the Future of Virtual Care with CareView
As a partner-ready provider for Government Hospitals, we look forward to collaborating with VA, VISN, and CLC to elevate patient care and improve healthcare outcomes. Our advanced virtual care solutions are designed to meet the unique challenges of these prestigious institutions, ensuring that together, we can create a safer and more efficient healthcare environment.