Meet the CareView® Platform
One Virtual Care Platform. Numerous Use Cases.
The CareView platform is a game-changer in the world of virtual nursing and virtual sitting. Fueled by industry-leading AI technology and supported by purpose-built hardware, it is specifically designed to meet the unique requirements of these crucial healthcare use cases.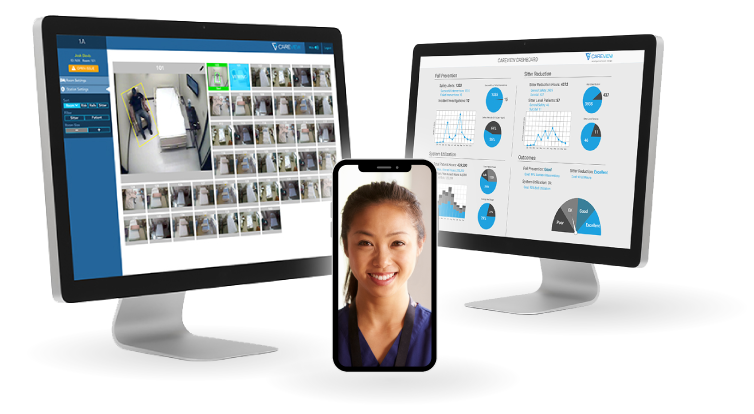 Our platform comprises two essential components: the Patient Safety System® and the Patient Care System. These systems work in harmony to deliver unparalleled patient safety and exceptional virtual nursing care.
Enhanced Patient Monitoring
Our Patient Safety System is purposefully designed to optimize virtual sitting outcomes. Leveraging AI and our patented predictive technology, including Virtual Bed Rails® and Virtual Chair Rails®, it ensures continuous monitoring of multiple patients from a centralized location. By utilizing these innovative tools, we enhance patient safety while reducing sitter costs.
Transforming Virtual Nursing
The Patient Care System revolutionizes virtual nursing by harnessing our clinically-designed technology. By reallocating professional nursing and administrative tasks to virtual Registered Nurses (vRNs), it alleviates the bedside workload and enables virtual engagement with patients and their families. This transformational approach allows for personalized care and improved patient experiences.
Integrated Platform, Customizations and Analytics
CareView's platform software is thoughtfully designed to seamlessly align with our in-room cameras and integrate with third-party technology solutions, while also being adaptable to your unique clinical needs. Our platform offers customization and configuration options that precisely align with your unique workflows, ensuring a tailored fit for your hospital's virtual care strategies. Complemented by a real-time analytics dashboard and an array of reporting tools, the CareView platform furnishes valuable insights and data, amplifying the impact of patient care delivery.
Ongoing Support and Maintenance
At CareView, we go beyond the installation and handoff. Throughout your contract, we provide quarterly software updates, ensuring your CareView platform stays up-to-date with the latest features and security enhancements. Our dedicated team ensures exceptional support, monitoring, and maintenance for both the platform and hardware, guaranteeing optimal performance and peace of mind.
Ensuring Robust Information Security
At CareView, we prioritize the security of our customers' confidential data and information systems. We have implemented comprehensive measures to provide robust protection, as evidenced by our information security assessment certifications.
Since 2017, CareView has been HITRUST certified, an internationally recognized standard that ensures the implementation of adequate and proportionate security controls. This certification validates our commitment to safeguarding customers' information and intellectual property assets. With HITRUST certification, you can trust that CareView adheres to stringent information security policies.
To handle sensitive information securely, CareView leverages a FIPS 140-2 validated cryptographic module certificate #3998. This certificate demonstrates compliance with the Federal Information Processing Standard (FIPS) 140-2 Level 1, providing a high level of confidence in our encryption practices. Importantly, this validation is achieved without the need for additional hardware, ensuring a streamlined and efficient security infrastructure.