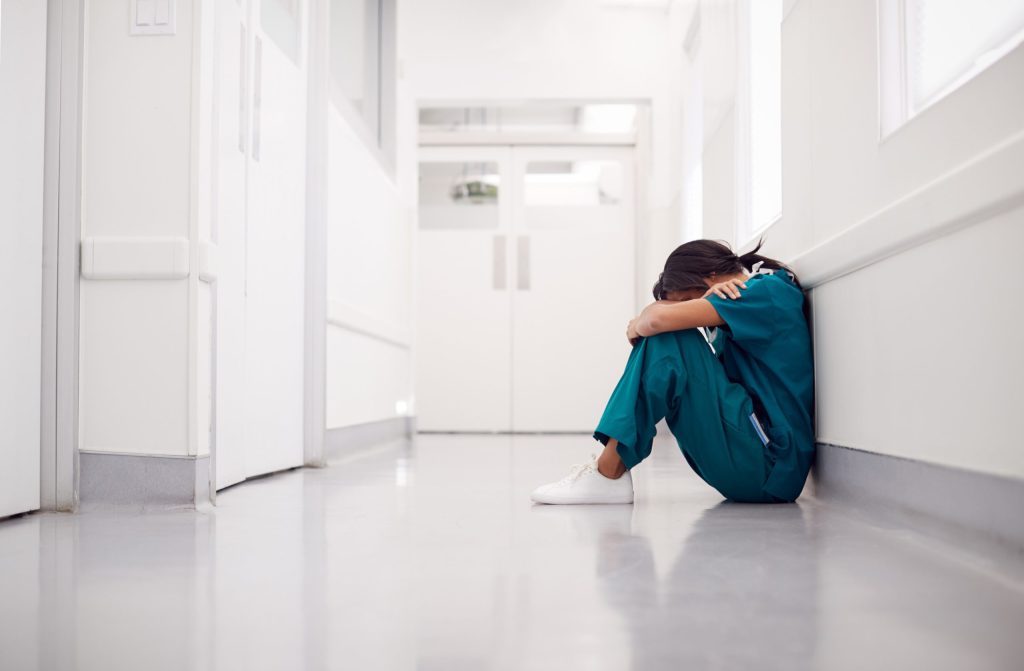 Virtual Patient Monitoring Prevents Nurse Burnout, Improves Patient Safety
It is no secret that healthcare organizations and their caregivers are facing unprecedented challenges due to increased demands from COVID. Nurse turnover is at an all-time high, costing healthcare millions annually. Every day nurses are being asked to care for an unmanageable number of patients.  Their many responsibilities are critical for safe patient care, causing an already emotionally fatigued group of caregivers to feel even more guilty, exhausted, and morally distressed. Being unable to provide the care their patients deserve, and doing it with limited resources, it is easy to see how burnout and turnover can occur. And when nurses leave, they take their expertise and experience with them. Safe nursing ratios save lives and help hospitals avoid costly adverse patient events and longer hospital stays for patients.
Better provider care leads to better patient care
What if you could invest in a simple solution to immediately reduce clinician burden and burnout, enhance caregiver effectiveness, and improve patient and staff safety?
CareView's Patient Safety System® improves the work-life of clinicians and staff by providing increased vision and awareness, fewer and better-quality alerts, and frontline patient safety support, which enhances the patient experience, improves safety and outcomes, and reduces costs.
Increased vision and awareness
CareView specializes in continuous remote video monitoring with predictive technology to analyze patient movements relative to center-of-gravity to provide qualified early warnings for unit and floor staff to respond before a fall or other safety event happens. The system allows a trained staff member to monitor up to 40 patient rooms from an off-unit, centralized location. From there, the virtual monitor technician can view and assess alerts generated by the system's patented Virtual Rails® technology.
Fewer alarms, better quality via qualified alerts
Alerts are designed to draw the attention of the virtual monitor technician instead of sounding an alarm in the patient rooms, which may disturb or frighten patients and guests. The virtual monitor technician can communicate with the patient using pre-recorded audio messages in dozens of different languages or via two-way audio in the camera. If it is determined that the patient needs assistance, the virtual monitor technician can escalate the event to the unit or floor staff to physically intervene. As the system does not rely on in-room or audible patient area alarms, and every alarm is qualified by the virtual monitor technician, there are fewer false alarms and alarm quality is higher, which provides quicker staff interventions.
Frontline patient safety support
The virtual monitor technician is a valuable addition to the care team and works to defer unwanted patient activity long enough for clinical staff to safely enter the room. This additional response time gives nurses time to don personal protective apparel when at-risk patients are in isolation rooms. In addition to monitoring patients for fall risk, tube pulling, and self-harm, some of our provider partner experiences have shown video monitoring to be an effective means to increase workplace safety as virtual monitor technicians have been able to intervene in cases of nurse harm and abuse, or Code Green situations.
Higher nurse-to-patient ratios improve patient safety; however, current nurse staffing shortages and budget constraints make it difficult for healthcare organizations to fulfill even minimum nurse staffing ratios. The CareView Patient Safety System provides a solution to complement optimal nurse staffing ratios, ease care burdens, and improve care efficiency by having a virtual sitter in every at-risk or high acuity patient room. At CareView our mission is your mission –  lower costs, improve patient safety, and enable nurses to do what they do best – deliver care.
Request a demo today to learn more about how the CareView Patient Safety System can help you!