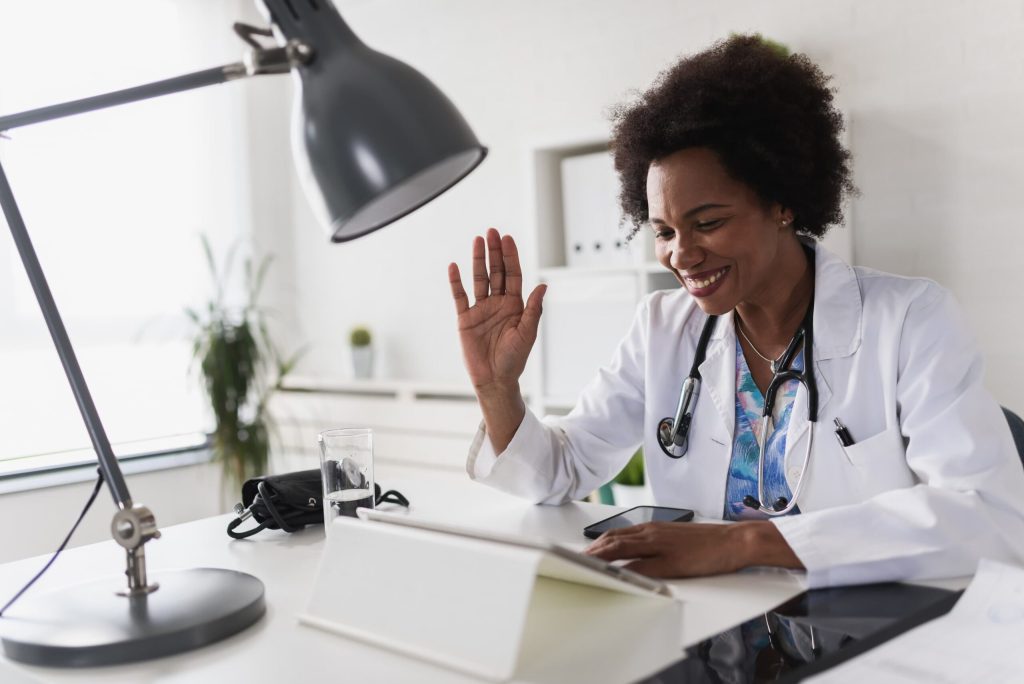 Virtual Nursing: Top 8 Most Important Uses
What is a virtual nurse?
Virtual nurses augment the care delivered by bedside nurses by alleviating their workload and providing greater patient satisfaction. Nurses at the bedside can focus on clinical tasks and patient care, while a highly trained, flexible, virtual workforce is connected to in-room technology to manage the more administrative tasks.
Virtual nursing workflows for patient observation, companionship, care concierge, and administrative tasks can ease workloads and improve care delivery. Hybrid patient care, the combination of bedside and virtual care, allows hospitals to keep nurses working at the top of their licenses and create  scalable workforce options
Meanwhile, patients enjoy greater convenience, more access to caregivers, faster quality care, and an all-around improved patient experience.
Who uses virtual nurses?
Virtual nurses are used in a variety of care and clinical settings to maximize staff and increase efficiency. A virtual nursing unit allows nurses to remotely interact with patients and patients with caregivers at the push of a button. Today virtual nurses are primarily used in medical/surgical units of acute care facilities. The trajectory of expansion encompasses critical access facilities and specialty use cases such as pharmacy, social work, dietary, and chronic case management. The ultimate objective is to streamline a patient's access to their care team while organically increasing a safe nurse to patient ratio that does not compromise the quality of care. Lifting so much of the administrative burden and providing access to supporting resources ensures improved patient outcomes and patient experience
Top 8 Uses for a virtual nursing program:
Virtual Patient Observation
Remote video monitoring has quickly become a target fall reduction solution, addressing gaps in patient safety risks as well as staff safety. Facility-specific escalation protocols and communication integrations create consistent workflows and reliable outcomes for preventing falls, monitoring behavioral health patients, and keeping nurses safe.
Concierge & Patient Experience
Virtual nurses can interact with patients virtually to receive, triage, and coordinate care needs. This ensures that the patient receives immediate acknowledgment of their needs, and that care can be coordinated in a manner that provides the least disruption for other patients and caregivers. Many requests may be handled by the virtual nurse directly, such as answering patient or family questions. Virtual nursing technology may also be used to facilitate administrator rounding for patient experience and engagement.
Admission and Discharge Planning
Admissions and discharges are highly time-consuming administrative tasks for bedside caregivers. With hybrid care the virtual nurse may assess the home setting and caregivers, educate, and even coordinate PT/OT/rehab needs, provide education on disease process and comorbidities, and even provide medication reconciliation.
Discharge Follow-up and Readmission Prevention
Virtual nurses can manage post-visit patient follow-up as well as help schedule clinic and diagnostic appointments, acquire transportation, and access financial resources if needed.
Care Transition Planning
Virtual nurses may also work with multi-disciplinary teams to determine if a patient is ready for the transition of care and even facilitate the patient's transition from hospital to rehab/LTACH and then home.
Bedside RN Support
Other ways virtual nurses provide bedside nurse support is to cosign for blood/medication administration, provide bedside education and engagement for patients and families, serve as a preceptor for bedside nurses, and do any other tasks as needed to allow the unit RN to focus on more hands-on tasks.
eICU
Virtual nurses in an eICU can provide critical care expertise to bedside nurses, run codes, collaborate with bedside RN on care plans, and attend rounds with an interdisciplinary team for care continuity and coordination.
Acute Care on Demand
A virtual nursing unit can also provide service to patients in rural areas, where access to critical care or scope of care can be a challenge. Virtual nurses can consult with nurses, doctors, and patients on cardiology, radiology, neurology, obstetrics, and NICU and help manage and treat chronic conditions.
Hybrid Care – a new model of care
With ever-increasing workforce challenges and margin pressures, virtual nursing is quickly becoming clinically and financially imperative. The virtual nurse truly is a part of the coordinated care team, ensuring patient satisfaction and relieving nurse workloads.
CareView virtual nursing offers remote video monitoring technology with facility-specific workflows and integrations that are scalable across facilities to support staffing, reduce cost, and improve the patient experience with a hybrid care approach.
For more information or to request a demo visit care-view.com